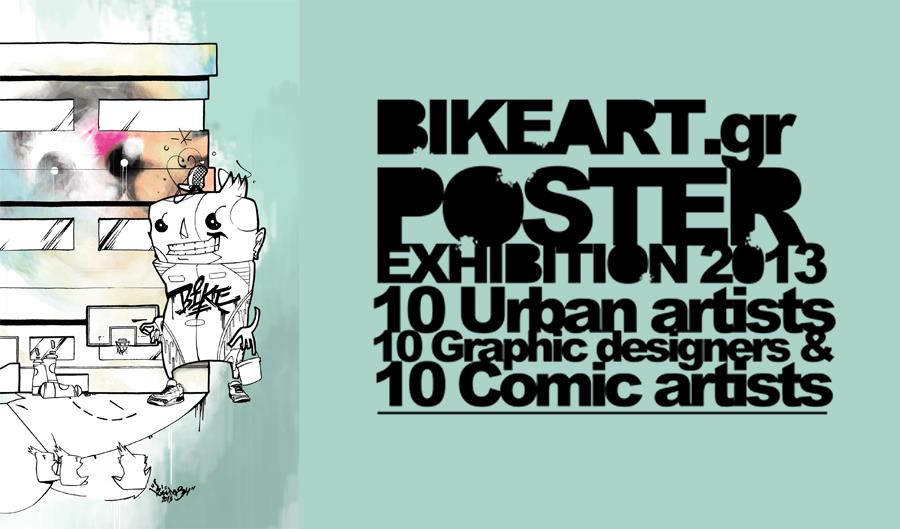 I've a piece in this years bikeart poster exhibition. Limited prints from all artists will be sold. Profits will be used to finance big murals and all sorts of beautiful art, decorating schools around the country.
————————————————————————-
Θα έχω μια συμμετοχή σε αυτό εδω. Ελάτε στα εγκαίνια να τα πούμε απο κοντά.
Ακολουθεί το δελτίο τύπου…
(event page: https://www.facebook.com/events/483712045028131/)
BIKEART.gr  POSTER EXHIBITION 2013
Διάρκεια: 12.04 – 14.04 2013
Εγκαίνια:  Παρασκευή  12 Απρίλιου στις 19:00 / Camp / πλ. Κοτζιά
Αγαπητοί φίλοι-ες
Το Bikeart.gr και η Urbanact με την φιλοξενία του CAMP διοργανώνουν  12-14 Απριλίου 2013 την πρώτη BIKEART.gr POSTER EXHIBITION με την συμμετοχή 30 Ελλήνων καλλιτεχνών.
10 urban artists
10 graphic designers &
10 comic artists
σχεδιάζουν για το ποδήλατο και στηρίζουν το πρόγραμμα "Ζωγραφίζοντας Σχολικά Κτίρια" στην Αθήνα.
Συμμετέχουν:
ΔΗΜΗΤΡΗΣ ΑΡΒΑΝΙΤΗ, ΔΗΜΗΤΡΑ ΒΑΣΙΛΑΚΟΥ, ΣΟΦΙΑ ΓΕΩΡΓΟΠΟΥΛΟΥ, ΓΙΩΡΓΟΣ ΓΟΥΣΗΣ, ΚΩΝ/ΝΟΣ ΔΑΜΟΥΛΑΚΗΣ (JAMER), ΛΙΛΑ ΚΑΛΟΓΕΡΗ, ΝΙΚΟΣ ΚΟΥΤΣΗΣ, ΚΩΣΤΑΣ ΚΥΡΙΑΚΑΚΗΣ, XΡΗΣΤΟΣ ΚΩΤΣΙΝΗΣ, ΣΤΑΜΑΤΗΣ ΛΑΣΚΟΣ, ΓΙΩΡΓΟΣ ΜΑΡΑΖΙΩΤΗΣ, ΓΙΑΝΝΗΣ ΜΠΑΡΔΑΚΟΣ + ΛΙΝΑ ΣΠΑΝΟΥ, ΝΕΑΡΧΟΣ ΝΤΑΣΚΑΣ, ΠΑΝΑΓΙΩΤΗΣ ΠΑΝΤΑΖΗΣ, ΤΑΣΟΣ ΠΑΠΑΙΩΑΝΝΟΥ, ΦΩΤΗΣ ΠΕΧΛΙΒΑΝΙΔΗΣ, ΣΤΕΦΑΝΟΣ ΡΟΚΟΣ, ΓΙΑΝΝΗΣ ΣΤΙΛΟΣ, ΘΟΔΩΡΗΣ ΤΙΜΠΙΛΗΣ, ΔΗΜΗΤΡΗΣ ΤΡΙΜΙΝΤΖΙΟΣ, ΧΡΙΣΤΙΝΑ ΤΣΕΒΗ, ΓΙΩΡΓΟΣ ΤΣΙΤΡΑΣ, ΠΕΤΡΟΣ ΧΡΙΣΤΟΥΛΙΑΣ, DPN.213, KEZ, POSTER, PUPET, RTMone, SAME84 και STUPID GREG.
Θα σας περιμένουν 20 αριθμημένα και υπογεγραμμένα αντίγραφα από κάθε καλλιτέχνη, κληρώσεις, διαγωνισμοί και συμμετοχικές δράσεις.
Διοργάνωση -Υλοποίηση:
Bikeart.gr / Urbanact.gr
Πληροφορίες και ενημέρωση:
bikeart.gr  <> facebook.com/bikeart.gr
campoint.gr <> facebook.com/CAMP.ContemporaryArtMeetingPoint
Ευπόλιδος 2 & Απελλού 4, πλ. Κοτζιά, τηλ. 210 – 3247679, info@campoint.gr